Do you need a job? - Maryland
Friday, 8 July 2016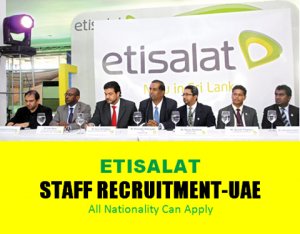 Contacts

ENGR. WILLIAMS

+2348130220513
Item description
VACANCIES
Emirates Telecommunications Corporation, branded trade name Etisalat, is a multinational United Arab Emirates (UAE) based telecommunications services provider, currently operating in 15 countries across Asia.
Qualification: High School / Diploma / Degree/ SSCE are required in the folowing position: ENGINEER, SPECIALIST, DECISION SUPPORT(technical), SPECIALIST(dealer sales), SENIOR ENGINEERS, MARKETERS, ICT SPEACALISTS, MANAGER(Information security), SECURITY OPERATORS.
To #apply send the following information via SMS to: +971526790064
Name *Nationality *Qualification *D.O.B. * Email Address *Phone number.
NOTE: ALL ABOVE INFORMATION SHOULD BE SENT VIA TEXT| SMS ONLY AND AWAIT RESPONSE, USUALLY WITHIN 24 HOURS.